Intergroup Pig Roast is canceled.
Weekend Warriors Saturday meeting has moved to Chapter V Club.
Beginning Wednesday March 6th continuing through Wednesday April 24th The New Beginnings Group will be be meeting in the Tanner Family Leaning Center In the Providence Lutheran Church.  Parking is available in the Albon parking lot of the church, Enter the church through entrance "B" proceed to the end of the hall to your right.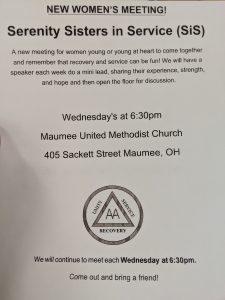 The meeting schedule was updated on April 14, 2019.
Love and Tolerance Is Our Code
A Spiritual Awakening (Toledo, OH)
Find Yourself in Sobriety (Antwerp, OH)
Wayne Group is changing their starting time to 7:00 p.m. April 5, 2019.
The Breakthrough meeting near Ottawa that met on Monday nights at 7:30 p.m. no longer meets.
Women's Serenity that met on Monday nights at 7:00 p.m. at the Pioneer Club in Findlay no longer meets.